Palin''s redneck beau 'would be the most awesome vice son-in-law ever!!!'
Submitted by Nina Sahu on Thu, 09/04/2008 - 10:59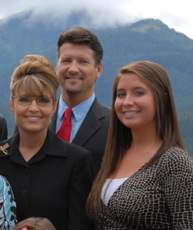 Melbourne, Sept 4 : He might have made vice-presidential candidate Sarah Palin's teenage daughter pregnant, but according to members of social networking pages such as Facebook, Levi Johnston "would be the most awesome vice son-in-law ever!!!"
The self-proclaimed "f----n redneck" - and boyfriend of Bristol Palin has become a celebrity in his own right after news broke that he had made the 17-year-old pregnant.
And according to one observer, the ice-hockey player, 18, has come over being just another high school jock from small-town Alaska, and has now turned into "sex on skates."
"This group is dedicated to Levi Johnston, the hot hockey player babydad to Bristol Palin''s baby. Hang onto him girl, and never let go!'''' theage. com. au quoted a website member, as stating.
Johnston has even made an appearance on stage with the Palin family at the Republican National Convention following the highly-anticipated speech of John McCain''s running mate. (ANI)