Multibillion bailout key issue in presidential race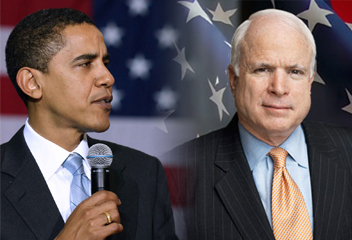 While the campaigns of both the presidential hopefuls – John McCain and Barack Obama - take at least partial credit for a newly negotiated $700 billion deal aimed at saving Wall Street from investments in bad mortgage debt, the candidates themselves acted cautious.
With worry about the American economy overtaking other issues such as Iraq in the buildup to the November 4 election, the candidates have tried to portray themselves as best able to steer the country through its economic problems.
McCain said the latest version of the deal meets his insistence of an oversight body to monitor the treasury secretary, and limits the compensation of executives of financial institutions applying for loans. He told 'This Week' on ABC: "Let's get this deal done, signed by the president, and get moving, because the real effect of this is going to restore some confidence, and get some credit out there, and get the economic system moving again, which is basically in gridlock today."
Meanwhile, Obama said McCain did not deserve any pats on the back for helping forge the tentative agreement. In an interview on 'Face the Nation' on CBS, he said: "Here are the facts: For two weeks I was on the phone every day with (Treasury) Secretary (Henry) Paulson and the congressional leaders making sure that the principles that have been ultimately adopted were incorporated in the bill."
It is clear once again that the multibillion dollar bailout has become a key issue in the race between Democrat Obama and Republican McCain. Knowing that the deal is highly unpopular with voters, both these U.S. senators have indicated in their respective television interviews that they would reluctantly support the deal when it comes up for a vote in the Senate.
McCain said: "This is something that all of us will swallow hard and go forward with. The option of doing nothing is simply not an acceptable option."
Obama said he was inclined to back the Wall Street deal as it includes increased oversight, relief for homeowners facing foreclosure and limits on executive compensation for chief executives of firms that receive government help, and added: "because I think Main Street is now at stake."
The plan, held up for days by election-year politics, allows the administration broad power to use billions of taxpayer dollars to purchase devalued mortgage-related assets held by cash-starved financial firms. The bailout - the largest in U.S. history - was designed to keep the terrible financial crisis from spreading throughout the entire economy.