Traditionally Republican Indiana may vote Democratic
Submitted by John Richburg on Mon, 10/13/2008 - 13:31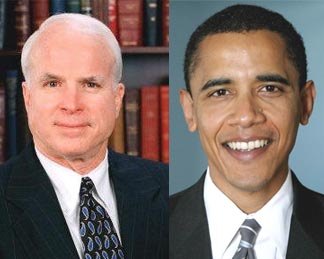 The presidential race has tightened in Indiana, with Barack Obama making inroads into the traditional Republican stronghold - the state that has not voted democratic since 1964. Sarah Palin, McCain's running mate will also visit the state this week, as a part of the efforts of McCain campaign to hold onto the once-reliable electoral votes.
The Democratic presidential nominee came to the state on Wednesday, his sixth visit since winning the nomination in early June. At the Indiana State Fairgrounds, addressing a gathering of nearly 20,000, he called the current market meltdown and credit lockup "a full-blown global financial crisis."
With a last week survey indicating a tie between McCain and Obama, there are chances of the 44-year tradition breaking this time around. Obama, sensing the tide turning in favor of the Democratic ticket, invoked hope for better future for the people of the state, saying: "Listen, Indiana, I'm here to tell you that there are better days ahead."
Obama was in Indianapolis last week, his wife Michelle is coming to Fort Wayne on Wednesday. But the state has all but been ignored by the McCain campaign. His last visit was more than three months ago. His campaign recently said it would close the Michigan regional office that oversaw political activity in Indiana.
Despite its longstanding voting history, there are people who opine that the Republican candidate's campaign shouldn't take Indiana for granted. In 2006, Indiana's state congressional delegation flipped three Republican seats to the Democrats.
Indianapolis Star political columnist, Matthew Tully, said: "Republicans, some say, 'Hey, it doesn't matter', but it does. I think John McCain has made a big mistake by not coming here, because if he'd come here a couple of times in June, July, spent some money on TV, he might be able to put the state away."