2014 CWG: All Indians, including Sindhu & Kashyap enter last 16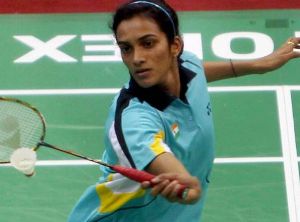 Glasgow : Indian medal contenders, P V Sindhu and Parupalli Kashyap notched up easy victories in the women`s and men`s singles events respectively to storm into the prequarterfinals of the badminton competition at the 20th Commonwealth Games here on Wednesday.
Indian shuttlers had a good day in office as P C Thulasi, RMV Gurusaidutt, Kidambi Srikanth and men`s doubles pair of Pranaav Chopra and Akshay Dewalkar too reached the last 16 at the Emirates Arena.
World No. 11 Sindhu had a walk in the park against South Africa`s Sandra Le Grange whom she tamed 21-4 21-6 in just 17 minutes, while Delhi Games bronze medallist, Kashyap streamrolled Dakeil Thorpe 21-9 21-5 in a 19-minute men`s singles match.
World Championship bronze medallist, Sindhu will next take on 17-year-old Thilini Hendahewa of Srilanka, while London Olympics quarterfinalist, Kashyap will meet Australia`s Jeff Tho in last 16.
In another women`s singles match, Thulasi made mince meat of Ireland`s Sinead Chambers 21-10 21-2 in 24 minutes, while Gurusaidutt brushed aside Edwin Ekiring of Uganda 21-13 21-11 in a men`s singles match that lasted for half an hour.
Thulasi faces the winner of the match between Canada`s R Honderich and Solen Pasturel of Jersey, while Gurusaidutt will next take on Canada`s Andrew D`Souza.
Srikanth also didn`t break any sweat as he disposed off Daniel Font of Wales 21-8 21-13 in his round of 32 match. The Thailand Grand Prix Gold winner will square off against N Karunaratne next.
In men`s doubles, Pranaav and Akshay thrashed Sri Lankan pair of Sachin Dias and Buwaneka Dullewa 21-10 21-9 in a 23-minute match.
After his match, Kashyap said: "That was straightforward. I`m getting used to the conditions and I`m feeling good."
On whether he is using the early rounds as a workout, he said: "It all depends on the opponent. If we can get some shuttles going then I can work on something otherwise I just try to get it over with as quickly as possible. Today I just got it over with."
On facing Jeff Tho in the last 16, he said: "I`ve played him a couple of times before but a long way back and I expect to win." (PTI)