AAP making 'drama' of people's mandate: BJP
Submitted by Hardeep Sidhu on Wed, 12/18/2013 - 23:08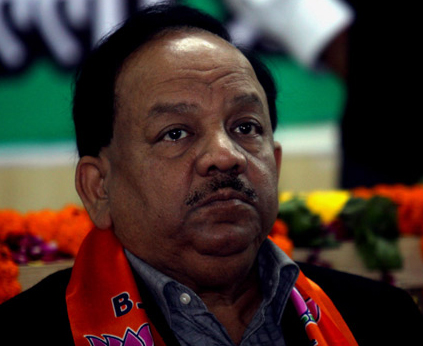 New Delhi, Dec 18 : BJP leader Harsh Vardhan Wednesday described the Aam Aadmi Party's (AAP) decision to seek public opinion on government formation in Delhi as a "drama".
"AAP is engaging in a drama and misleading people. They are unnecessarily delaying government formation in Delhi. They could have made their stand clear," Harsh Vardhan said at a press conference.
The Bharatiya Janata Party leader, who was its chief ministerial aspirant, said the AAP was playing with people's mandate by again going to the public vis-a-vis government formation.
AAP leader Arvind Kejriwal Tuesday said it would announce its final decision on taking power Dec 23 after finding out the views of the people until the weekend.
This follows a split electoral verdict that left the resulted in the BJP finishing with 31 seats in the 70-member assembly but lacking the necessary members to form a government.
The AAP won 28 seats while the Congress was routed with just eight seats in its kitty.
Harsh Vardhan said the AAP had earlier claimed that it would not take or offer help to any political party but it was now changing its stance.
Harsh Vardhan also posed 14 questions to Kejriwal. One of them was: Tell the people how much time will you take to form a government? (IANS)
Technology Sector