Adani and Linc to soon sign deal about coal assets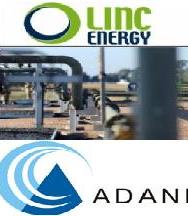 On Monday, Linc Energy Ltd said that the talk between it and Indian Adani Enterprises Ltd is at a very advanced stage. The talks are regarding the transaction of coal assets of Linc which are present in Queensland.
Post the declaration, shares of Linc were up 19 per cent.
Linc has said that till now no agreement has been settled upon and the talks with the other parties are also continuing. This is about the selling of non-core coal tenements in Queensland. In a statement, Linc Energy said, "These negotiations remain commercial in confidence and, whilst very well advanced, no concluded contract terms have been agreed with any party as at the time of this announcement."
The statement was made by Linc in response to news reports that appeared in The Australian and The Sydney Morning Herald. It said that an agreement between Adani and Linc will be signed on Tuesday.
In July, CEO of Linc, Peter Bond had confirmed that talks between the two companies for Galilee thermal coal property is on. It was bought over by Linc for A$1 billion just a few days back.
A source had said that it will be signed by August.