Adani IPO gets overwhelming response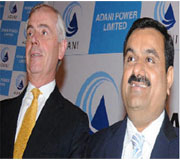 Gautam Adani's power company recorded overwhelming response from the primary market, as investors subscribed the issue nearly three times during the first half hour at the Bombay Stock Exchange.
The issue received bids for 704.16 million shares as compared to the issue size of 248.79 million shares, majority of which were demanded by T. Rowe Price International Inc.
The Ahmedabad-based company plans to raise Rs 3,000 crore through its Initial Public Offer selling 301.65 million shares at Rs 90-100 per share. It has appointed DSP Merrill Lynch as its book manager who will assist it for the IPO.
Ameet Desai, a director at Adani Power Ltd., said, "That bodes well for the issuance. I think it's been pretty encouraging."
Adani Group's spokesman, Devendra Amin said that issue, for which investors paid 95 rupees a piece, is the first issue in India under new SEBI guide lines to attract anchor investors. These investors include Ecofin Ltd, AIC Advantage Fund, and Sundaram BNP Paribas Mutual Fund.
Mr. Desai further added, "We had to work really extensively with local interest groups and make sure that they understand how this project will benefit them."