Adlabs gets approval to raise Rs 600 crore
Submitted by Malini Ranade on Fri, 08/14/2009 - 03:46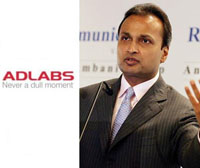 Anil Dhirubhai Ambani Group Indian entertainment firm Adlabs Films Ltd. has notified that its board has approved a rights offer to raise Rs 600 crore ($125 million) by way of equity shares to the company's shareholders.
The raised funds will be used for expansion and growth opportunities including investment in various projects in India as well as overseas.
Adlabs' growth plans include expanding branded chain from 428 screens worldwide to over 570 screens by next year; setting up a 1,200-member media BPO company "specializing in content processing, image enhancement and restoration services"; establishing a 200,000 sq ft. state of the art studios and sound stages at Mumbai's Film City complex.
Ahead of latest announcement, the scrip of the company today closed at Rs 327 on BSE, up 4% compared to previous close of Rs 314.
Technology Sector