After UK, US ready to end boycott of Narendra Modi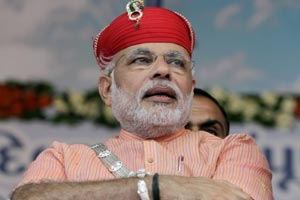 Eyeing business opportunities in Gujarat, the US has followed UK by hinting that it could end Chief Minister Narendra Modi's isolation soon.
A senior US official on Thursday said that his country would evaluate any visa application based on merits. He was responding to a question about ban on Narendra Modi's visa for the US.
Mike Hammer, US assistant secretary of state for public affairs, said, "We of course will evaluate any visa application based on its merits and in accordance with US law."
It may be noted here that the US and UK had boycotted Narendra Modi in wake of 2002 anti-Muslim riots in Gujrat.
The UK, which has for some years suffering through tough economic times, has also confirmed that it wanted to end Modi's isolation. Hugo Swire, the new British Minister in-charge of India on Wednesday announced that the British High Commissioners in India were asked to pay a visit to Gujarat and to meet Modi.
Since the 2002 riots, British government had been ordering its officials to avoid dealing directly with Modi. During his visit to the UK in 2003, Modi had faced severe protests.
The change in the policies of the US and UK has come as both of these countries are struggling to put their economies right, and Gujarat is offering great investment opportunities.