Ajith Kumar to participate in Formula 2
Submitted by Ashok Rao on Thu, 03/25/2010 - 15:27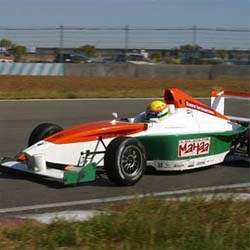 Tamil film actor is all set to become third Indian driver to participate in the FIA Formula Two championship racing event to be held at Silverstone in England this year.
The 39-year old Ajith confirmed on Wednesday that he will compete in the Formula 2 along with his partners Armaan Ebrahim and Parthiva Sureshwaren. Ebrahim will be participating in the Formula 2 for the second time while Parthiva will make comeback after a break.
Ajith had made his debut in the international racing arena in 2003 at the Formula BMW Asia Championship. Ajith had finished at fourth spot in qualification round and sixth position in main race in the Korea.
Speaking to the media, Ajith said that he is very excited to compete in the competitive racings and he is confident to get some success in the upcoming Formula 2 racing in England.
Ajith further said that he had done some practice in Malaysia and he will practice more in Snetterton (circuit in UK) & Silverstone before start of the event.