Allegations of vote-buying mar European poll in Bulgaria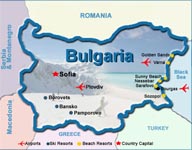 Sofia - The European Parliament vote in Bulgaria, the second since the country joined EU, has been marred by allegations of vote- buying in the week ahead of election day on Sunday.
The EU commissioner for consumer protection and leader of the conservative National Movement's European ticket, Meglena Kuneva on Wednesday warned authorities to act even on hints of an attempt to offer money in exchange for votes.
A day later, Tihomir Bezlov of the Sofia-based Centre for Study of Democracy accused political parties of holding 12 million leva (8.7 million dollars) in slush funds to bribe people into voting for them.
A vote went for 50 leva on average, with some 5 per cent of the overall 6.7 million votes was up for sale, mostly among the poor and particularly in the large Roma minority, Bezlev told Darik radio.
A survey by the Centre for Analysis and Marketing showed 15 per cent of the respondents as definitely willing to take money in front of polling stations and as many as "hesitant."
Roughly 6 per cent of those polled said the saw buying and selling votes was "normal," showed the survey, conducted between May 29 and June 2 on 1,209 adults.
The same survey indicated a steady lead of the opposition GERB party in the run for the 17 Bulgarian seats in the European Parliament, as well as a hint at the country's parliamentary poll a month later, on July 5.
GERB has been tipped to win 25 per cent of the votes Sunday, or six seats, ahead of the ruling coalition partners, the Socialist Party and the Movement for Rights and Freedoms of ethnic Turks, with four seats each.
The ultra-nationalist Ataka party is expected to win two seats, while several parties are set to contend for the remaining seat.
Bulgaria joined the EU in 2007, but remains plagued by corruption, which even led to a suspension and cancellation of more than 500 million euros (700 million dollars) in development aid from Brussels in 2008.(dpa)