Apple's iPad mini now available in India
Submitted by Darpana Kutty on Sat, 12/08/2012 - 15:15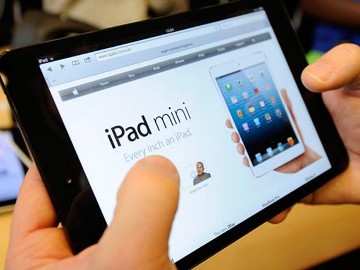 Less than a week after the roll out of Apple iTunes Store in India, the Cupertino-based tech giant has announced the launch of iPad mini in the country.
The iPad mini features a 7.9-inch multi-touch display, iSight cameras, FaceTime HD and an A6X dual-core processor.
The 16GB Wi-Fi-only iPad mini has been priced at Rs 21,900, while the 32GB and 64GB Wi-Fi-only versions of the smaller tablet cost Rs 27,900 and 33,900, respectively. The 16GB,
32GB and 64GB Wi-Fi plus 4G versions of the tablet are available for Rs 29,900, 35,500 and 41,900, respectively.
The iPad mini will compete with the likes of the Nexus 7 and Galaxy Tab 2, both of which are available for less than Rs 20,000.
The manufacturer claims that the iPad mini offers a 10-hour battery life for extensive usage.
However, the lack of a Retina display on the smaller iPad is definitely a big drawback. After experiencing the excellent Retina display on the iPad, Apple fans will not like the idea of going back to the lower-resolution display on the iPad mini.
Reports also suggest that the Cupertino firm has also made its fourth-generation iPad available in India. The fourth-generation iPad costs Rs 39,900, Rs 45,900 and Rs 51,900 for the
16GB, 32GB and 64GB models, respectively.