AT&T extends FaceTime over cellular to more iPhone users than earlier suggested
Submitted by Darpana Kutty on Thu, 11/22/2012 - 20:57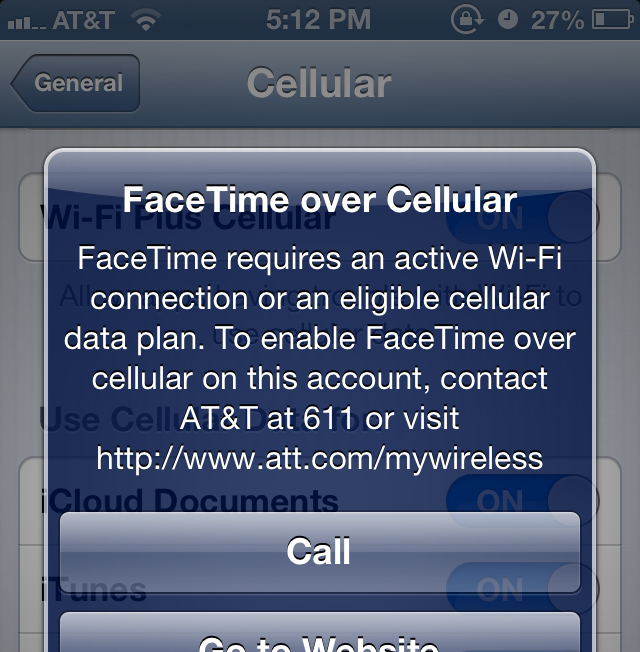 AT&T had revealed in a November 8 announcement that it would soon be extending Facetime over cellular to LTE-capable iPhones; but it appears that the carrier has adopted a more generous policy and has opened Facetime over cellular to more iPhone users than it had earlier suggested.
In its earlier-this-month announcement, AT&T had mentioned that FaceTime over cellular will be enabled for customers who owned "an LTE device" on a "tiered data plan" using iOS 6; thereby implying that the grandfathered subscribers with the carrier's unlimited data plans and iPhone 4S users will not be included in the FaceTime over cellular extension.
However, pointing out that AT&T had enabled FaceTime over cellular for more iPhone users than it has earlier suggested, a MacRumors report first revealed on November 20 that the option had been enabled even for the users of non-LTE-equipped iPhones.
The MacRumors report spread a wave of cheer among the iPhone users who had been complaining about the earlier-hinted exclusion by AT&T for the FaceTime over cellular option.
Apparently voicing the delight of the earlier-left-out iPhone users, MacRumors' forum user `kre62' confirmed on the forum thread that Facetime over cellular had been turned `On' on his unlimited-plan iPhone 5 as well as on a 4S handset; and also added: "I also checked a few coworkers' phones, all now have FT over cellular."