Ban Ki-moon welcomes U.S. backed climate deal as an "essential beginning"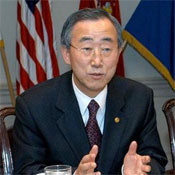 Copenhagen, Dec. 19 : United Nations Secretary General Ban Ki-moon has hailed a United States-supported climate deal here and described it as an "essential beginning".
Moon, however, said the accord, reached with key nations including China and Brazil, must be made legally binding next year.
It could be possible after intense wrangling, when delegates passed a motion simply taking note of the deal, without formally adopting it.
The accord includes a recognition to limit temperature rises to less than 2C and promises to deliver 30bn dollars of aid for developing nations over the next three years. It outlines a goal of providing 100bn dollars a year by 2020 to help poor countries cope with the impacts of climate change.
The agreement includes a method for verifying industrialised nations'' reduction of emissions. The US had insisted that China dropped its resistance to this measure, said a B. B. C report on Saturday. (ANI)