Bata India Short Term Buy Call
Submitted by Sumeet Kak on Fri, 11/19/2010 - 15:33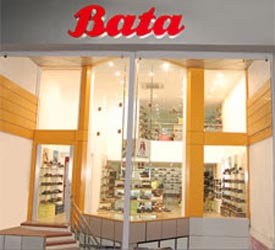 Stock market analyst Anil Manghnani of Modern Shares and Stockbrokers has maintained 'buy' rating on Bata India Limited stock with targets of Rs 411 and 415.
Mr. Manghnani said that the investors can buy the stock with a stop loss of Rs 338.
After selling the stock, the interested investors can buy the stock on declines with medium and long term target.
Today, the stock of the company opened at Rs 387 on the Bombay Stock Exchange (BSE).
The share price has seen a 52-week high of Rs 391.90 and a low of Rs 176 on BSE.
Current EPS & P/E ratio stood at 13.43 and 28.30 respectively.
Footwear major and retailer Bata India has recorded an increase of 57.68% in its net profit, which stood at Rs 20.72 crore for the three month period ended September 30, 2010 as compared to Rs 13.14 crore in the same period of 2009.
For the tree-month period under review, the net sales of the company grew by 12.04% to Rs 291.78 crore as compared to Rs 260.42 crore during the same period of 2009.
Bata's Managing Director Marcelo Villagran stated, "We have been delivering the best results quarter-on-quarter and are well on our way to make this the most profitable year for Bata India."
Besides, the company is on an aggressive growth spree as it would roll out 70 new stores across the country.
The company's growth move continued to witness more store launchings across Delhi, Mumbai, Chennai, Hyderabad and Bangalore.