Bendtner fined $150,000 for drunk-driving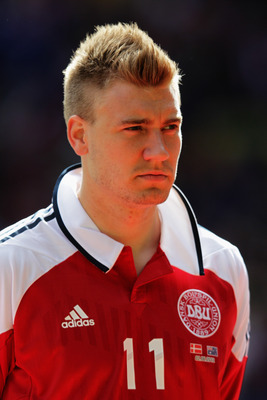 Copenhagen, March 6 : Danish forward Nicklas Bendtner was Tuesday fined 842,000 Danish kroner (about $150,000) by a local court for drunk-driving in downtown Copenhagen.
Bendtner was put on trial in Copenhagen district court Tuesday and according to the indictment his blood alcohol count was as high as 1.75, reports Xinghua.
Furthermore he did not have a valid driver's license as his English license expired September 1, 2012.
The district court fined Bendtner and also deprived him of the right to drive a motor vehicle for three years.
After the sentence Bendtner told reporters it was the worst day in his life.
"I take the full responsibility for that I have done and I am very very sorry for being such a bad example for all football fans, " he said.
Also the Danish Football Association (DBU) has reacted to Bendtner's drunk driving by suspending him from international football for the next six month.
This means that the Denmark's best offensive player will not be part of the national team when they play qualifiers for World Cup 2014 against Czech Republic later this month.
Bendtner, 25, was taken to a police station after being caught driving the wrong way down a street in downtown Copenhagen in the early hours of Sunday morning.
This is not the first time for the Juventus' player to make a bad name for himself on the public scene. At the Euro 2012 he was heavily fined by UEFA after revealing a bookmaker's name on his underpants after scoring a goal. (IANS)