Biocon Net Climbs Up 62.71% In Jun`07 Qtr
For the quarter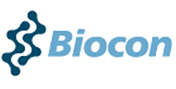 ended June 2007, Biocon exposed a fantastic increase in net profits.
The company experienced a 62.71% growth in earnings during the quarter, which climbed to Rs 448.6 million from Rs 275.7 million for the quarter ended June 2006.
Net sales for the quarter rose 23.78% to Rs 2,274 million compared with Rs 1,837 million in the corresponding quarter, a year ago.
Total income arose 25.09% to Rs 2,315.9 million for the quarter ended June, 2007 as against Rs 1,851.3 million for the corresponding period last year.
The earnings per share (EPS) boosted to Rs 4.64 for the quarter as compared with Rs 2.86 for the same quarter last year.
The company's main activity is to produce biotechnological products thru fermentation based technology. The group functions in three business sections, which include Enzymes, Active pharmaceutical ingredients and Contract research services.