BJP believes in divisive politics: Rahul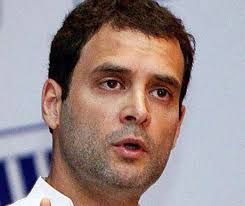 Mirzapur (Uttar Pradesh), May 6 : Congress vice president Rahul Gandhi Tuesday accused the BJP of indulging in "divisive politics" and benefitting a few industrialists while failing to work for the masses.
He was addressing an election rally here.
"They indulge in politics of hate and anger and pit Hindus against Muslims. They divide people on caste and religious lines to get votes. We don't believe in such ideology," Gandhi said.
"Their idea of India shining is to let a few corporates loot the country while the masses remain jobless," he added.
Gandhi also blamed the Bharatiya Janata Party (BJP) for the 2013 Muzaffarnagar riots.
"Six months before the elections there were riots (in Uttar Pradesh). Is it correct or not? This is because of their ideology of hate. They don't want to work for the people."
Taking on the ruling Samajwadi Party government, Gandhi said Uttar Pradesh's youth will never get jobs in their home state.
"You have to go to states like Maharashtra, Assam, Haryana to look for jobs... you will never get employment here," he said, blaming the state government for the failure of the once successful handloom industry.(IANS)