Buddibot launches Rovio webcam with Buddibot 1.0 communication tool in Indian market
Submitted by Darpana Kutty on Fri, 05/08/2009 - 19:34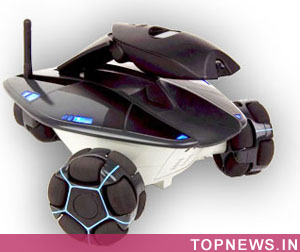 The web application development company based in Hyderabad – Buddibot on Thursday launched Montreal-based WowWee Technologies' WiFi enabled mobile webcam Rovio equipped with Buddibot 1.0 communication tool in the Indian market. The Rovio with Buddibot 1.0 communication tool is aimed to target non-resident Indians (NRIs).
The Buddibot 1.0 subscription-based communication software works well with Rovio webcam. The robotic webcam can be controlled from anywhere in the world.
Speaking at the launch, the co-founder and chief executive of Buddibot, Subbarao Machiraju stated that the company has designed the Buddibot 1.0 software "to keep the distributed families emotionally connected remotely, especially the younger ones with the elder members, regardless of their physical presence". The Buddibot 1.0 software can also be applied for home security, while away from home.
The other functions of the Buddibot 1.0 software include reminders, messaging service, memories manager and remote entertainment. The software can also store contacts.
The Rovio webcam can be controlled remotely. It can move in any direction easily to view and interact with a person through streaming video and audio. It is equipped with a self-docking system, which help sending the webcam back to the charging dock to recharge, remotely.
Buddibot announced that the Rovio mobile webcams are available in India through the Reliance Digital chain (Rs 14,850), and the webcams will be available online at smartbotsdirect.com for Rs 14,850. Buddibot is also providing software services for an annual subscription of Rs 1,750.
Machiraju told that the company is providing software services to the mobile webcam that include navigation, setting reminders and playing some podcasts for an annual subscription of Rs 1,750. Initially, the company is launching service in Hyderabad for testing, and the service in the entire nation will be launched in next two to three months. He said that the company is expecting to sell about 3,000 units in the country and garner 6,000 subscriptions worldwide this year.