Bush recollection puts spotlight on miscarriage
Submitted by Piyush Diwan on Thu, 11/11/2010 - 00:24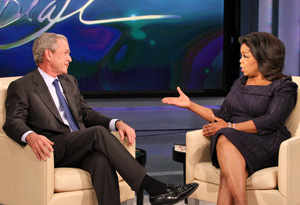 Former US President, George W. Bush, in his interview with Matt Lauer on NBC News on Monday night, initiated a national conversation about his mother, Barbara Bush, and the complex issues revolving around miscarriage.
Bush called his mother decision as being straightforward. Some people against abortion reacted approvingly. Others commented on Mrs. Bush's action as that of a depressed and angry person.
Experts feel that after five decades, it is difficult to interpret the incident and its facts. They added, however, that the incident was extraordinary in at least one respect, i. e., Mrs. Bush directly confronted the loss during a period when the subject was largely considered to be a taboo.
Back in those days, in post-war America, miscarriage was considered more of an embarrassment or a medical mishap than a loss of life. Women would whisper about it amongst themselves but would never discuss it out in the open.
However, things have changed a lot in recent times and it is a much greater deal now. There are support groups now where women can go, and there are therapists who specialise in treatments.
Women develop an attachment with the foetus which lasts long even after the pregnancy is over.