Pharmaceutical Sector
Submitted by Malini Ranade on Thu, 06/28/2007 - 23:55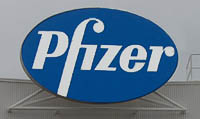 On reporting a 618.19% increase in net profit in Q2 May 2007, Pfizer lifted 1.18% to Rs 820.10 in afternoon trades. The quarterly results were declared during the market hours.
During the day, the scrip touched an intraday high of Rs 840 and an intraday low of Rs 808. It has had its 52-week high of Rs 965 on 10 October 2006 and 52-week low Rs 666.10 on 28 July 2006.
On BSE, there were 93,947 shares for trading on the counter. In the last one quarter, the standard daily volume in the stock was 9,795 shares. Its share price declined from Rs 852.20 to Rs 802.60 on 22 June 2007. It rose from here to reach Rs 810.50 on 27 June 2007.
Submitted by Shalini Kakkad on Sat, 04/07/2007 - 16:34
Africa has

been a hushed moneymaker for India's major drug manufacturing company Ranbaxy making around $100 million annually.
Now the company plans to invest up more funds in infrastructure and will establish a novel manufacturing plant in the continent.
At present, the company's income from the continent amount to 7% of the company's worldwide income. But returns from the county is cross-filing double-digit development.