Buy Dena Bank with target of Rs 106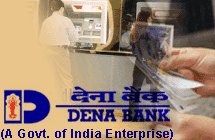 The latest reports issued by IIFL maintains 'buy' rating on Dena Bank stock with a target of Rs 106.
On March 7, the stock of Dena Bank opened at Rs 97.25 on the Bombay Stock Exchange (BSE).
The share price has seen a 52-week high of Rs 151.00 and a low of Rs 77.50 on BSE.
Current EPS & P/E ratio stood at 20.63 and 4.62 respectively.
According to reports, the lender has staged a sharp recoil from the help of its 20-DMA this week. In the last week, the stock broke out from the sliding sloping trendline with higher-than-average volumes.
The stock of the bank remained on sliding breakout trendline, presenting growth in the counter and any move past Rs100 is likely to increase buying momentum in the coming period.
The IIFL report reveals that RSI too has returned from the support levels of 45 which helps reward ratio on the growing path.
They suggested high risk traders to acquire the stock above Rs100 with stop loss of Rs97 for target of Rs 106.