Buy HDFC Bank To Achieve Target Of Rs 2393
Submitted by Malini Ranade on Thu, 04/28/2011 - 17:32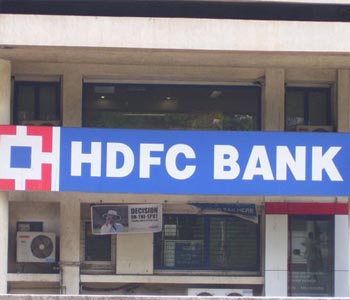 Technical analyst Simi Bhaumik has maintained 'buy' rating on HDFC Bank Limited stock to attain an intra-day target of Rs 2393.
According to analyst, the investors can buy the stock with a stop loss of Rs 2335.
The stock of the company, on April 27, closed at Rs 2354.95 on the Bombay Stock Exchange (BSE).
Current EPS & P/E ratio stood at 84.70 and 27.81 respectively.
The share price has seen a 52-week high of Rs 2518 and a low of Rs 1816 on BSE.
HDFC Bank, the country's second biggest private sector banking institution, has opened its landmark 2000th division at Mangaliya Sadak in the state of Madhya Pradesh.
Mr. Bharat Shah, Group Head, HDFC Bank kicked off the division.
The newly opened arm will provide its clients top-notch banking services under one roof ranging from common services like Savings Account, Kisan Gold Card, FDs, Current Account, MFs, Insurance, Two-wheeler loan, Auto loan, Commercial Vehicles loan to advanced direct access banking canals including ATM, PhoneBanking, NetBanking and International Credit and Debit Cards.
After kicking off the new branch, Mr. Bharat Shah, Group Head, HDFC Bank stated, "It's no coincidence that we are opening our 2000th branch in Mangaliya Sadak. It's the result of a clear management vision, a resolve to be the bank of choice for millions of Indians residing in the hinterland, 16 years of hard work and commitment, together with the faith our customers reposed in us."
Mr. Navin Puri, Country Head, Branch Banking, HDFC Bank, from Mumbai stated that he's happy to declare that the bank has introduced its 2000th branch at Mangaliya Sadak, near Indore.
He added that Mangaliya Sadak is a rustic division and their existence in this small village further reiterates their promise to make banking services available to the under-banked and rustic areas in the country.
Technology Sector