Buy Indian Hotels With Target Of Rs 92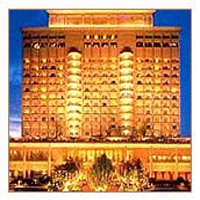 Investment advisor Nishant Jain of Tradeswift Broking has maintained 'buy' rating on Indian Hotels Company Limited stock to attain a target of Rs 92.
According to analyst, the investors can buy the stock with a stop loss of Rs 86.
The stock of the company, on April 25, closed at Rs 87.90 on the Bombay Stock Exchange (BSE).
Current EPS & P/E ratio stood at 1.50 and 58.16 respectively.
The share price has seen a 52-week high of Rs 118.35 and a low of Rs 78 on BSE.
Indian Hotels Ltd has decided to launch a new hotel brand in the mid-scale section and unite its abroad brands under single holding company.
At present, the hotel chain operator runs the Taj brand in the luxury 5-star section, the Vivanta brand in the 4-star section, Gateway Hotels in the 3-star sector and Ginger in the budget space.
Raymond Bickson, MD of Indian Hotels Ltd stated, "We are not in the mid scale segment so that is one brand we will look at in the coming years."
The company has also decided to strengthen its abroad properties in markets including the US, UK and the Middle East, which is held via a range of divisions.
The company eyes to append between 1,500 to 2,000 rooms in 2011-12 crosswise 11 novel properties and aims to augment its room tally in the country (Indian market) to 20,000 by the next five years as against 13,250 at this time.
Indian Hotels Ltd is eyeing to post revenues of $2 billion by the next five years.