Cairn India acquires 60 per cent stake in exploration block in South Africa
Submitted by Rajvir Khanna on Fri, 08/17/2012 - 22:29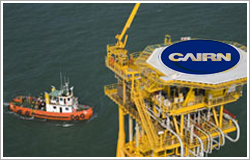 Cairn India, which was recently acquired by Vedanta Resources, has acquired a 60 per cent stake in oil and gas exploration offshore block 1 in South Africa.
The acquisition will allow the company to expand its presence in the international markets beyond Sri Lanka. The 19922 sq. km Block 1 in Orange Basin in South Africa includes an existing gas field that was discovered in 1987. The company has entered into an agreement with South African national oil firm Petroleum Oil and Gas Corporation of South Africa Ltd (PetroSA) for acquiring the stake.
The company said in a statement that Cairn India will become the operator of the block while PetroSA, which is owned by the government of South Africa, will hold the remaining stake. The company will now conduct seismic surveys and is also planning initial exploration drilling. The type of resources found in the block will determine the beginning of the production.
"This is an important step for the company's growth beyond the Indian sub-continent. We see an attractive opportunity to leverage our capabilities in a rapidly-emerging area and aspire to build a wider business in the region," said P Elango, Cairn India director (strategy).