Cameron calls Jallianwala Bagh tragedy shameful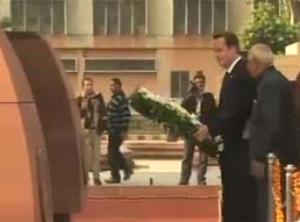 Amritsar, Feb. 20 : British Prime Minister David Cameron became the
first head of government from his country to visit Jallianwala Bagh on
Wednesday, and called the April 13, 1919 massacre of unarmed civilians
as a tragic and a "most shameful act in the history of Britain".
Cameron also visited Amritsar''s Golden Temple and paide his obeisance before moving on to the Jallianwala Bagh memorial.
It
was on April 13, 1919, that people, including women and children, who
had gathered peacefully inside the Jallianwala Bagh grounds for Baisakhi
celebrations and to voice their protests against British colonial rule,
were gunned down by troops on the orders of Colonel Reginald Edward
Harry Dyer (9 October 1864 - 23 July 1927).
Hundreds of fleeing
Indians were shot and killed at point blank range and many died after
falling into the well nearby as they ran to save themselves from the
hail of bullets.
Cameron laid a floral wreath at the base of the
memorial and later wrote in the message book -- "This was a most
shameful act in the history of the Britishers''. (ANI)