CBI gives clean chit to Shinde in Adarsh case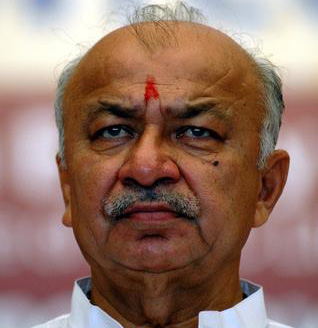 Mumbai, Sep 19 : In a major relief to union Home Minister Sushilkumar Shinde, the Central Bureau of Investigation Thursday ruled out his involvement in the infamous Adarsh Society scam in Mumbai.
In an affidavit in the Bombay High Court, the CBI said there was no evidence to suggest that Shinde, during his tenure as Maharashtra chief minister (between January 2003 and October 2004), had been involved in any wrongdoing in this regard.
"The CBI does not feel it legally necessary to name Sushilkumar Shinde as an accused in the ongoing investigation being carried out by it," the affidavit filed by CBI official K. Babu stated.
A division bench of the Bombay High Court comprising Justice P. N. Hardas and Justice P. N. Deshmukh adjourned the matter for further hearing to Sep 26.
The affidavit came during the hearing of a plea by social worker Pravin Wategaonkar demanding that Shinde be included as an accused, as he allegedly owned "benami" flats in the controversial 31-storeyed tower in Colaba, south Mumbai.
Wategaonkar contended that Shinde had suggested the inclusion of the late Major N. W. Khankhoje as a member of the society, which had also come out in the deposition by former legislator Kanhaiyalal Gidwani, another accused who died in November 2012.
The CBI affidavit said Khankhoje's membership may have been pursued by Gidwani, but that cannot be confirmed as he has passed away.
The CBI charge-sheet states that civilians were permitted to become members of Adarsh Society at Gidwani's instance.
The affidavit also said the CBI probe did not reveal any family relationship between Khankhoje and Shinde, nor was there anything on record to substantiate Gidwani's deposition that Khankhoje was included by Shinde.
"There is no evidence coming to light during investigations to suggest Shinde abused his position as a public servant for the benefit of someone from Khankhoje's family in connivance with the office-bearers of Adarsh," the affidavit said, adding that there was no merit in the allegations against Shinde.
The request for prime land to construct the 31-storey high-rise residential complex for serving and retired personnel of the armed forces in Colaba, in an area considered sensitive both ecologically and militarily, was made in February 2002.
In the 10 years since, it was found that top military officials, bureaucrats and politicians had bent rules to acquire flats at artificially lowered rates.
There were allegations against three former Maharashtra chief ministers in this case. Besides Shinde, Vilasrao Deshmukh and Ashok Chavan were also under investigation. (IANS)