Commodity Trading Tips for Nickel by KediaCommodity
Submitted by Ajay Kumar Kedia on Fri, 10/11/2013 - 13:46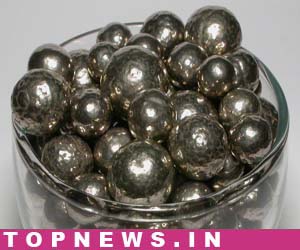 Nickel settled down -0.89% at 842 in the wake of US initial jobless claims, which rose to 374,000 higher than expected. US Republican Party agreed to prolong debt limit by 6 weeks without any condition, causing US debt crisis to ease. The House of Representatives proposed a 6-week extension of debt ceiling without attaching any condition so as to get Obama to discuss budget and deficit issues. The White House stated progress has been made over the debt ceiling and budget talks between Obama and two parties, greatly reducing risks of government default. The US dollar index ticked up 0.16%. US and European stocks mostly closed up, while Asian shares swung between gains and losses. LME nickel prices overnight opened at USD 13,678/mt, with the high end of the price range USD 13,861/mt, and finding support at USD 13,651/mt. Finally, LME nickel prices closed at USD 13,752/mt, up USD 62/mt from the previous trading day. Trading volumes decreased by 496 lots, to 2,341 lots, and total positions increased by 1,022 lots, to 137,435 lots. Inventories fell by 234 mt, to 228,996 mt. LME nickel seen firm helped by the temporary closure of Colombia's Cerro Matoso mine, the world's second-biggest ferronickel producer after two weeks of protests by local groups demanding compensation for alleged harm to their health from pollution. Finnish nickel miner Talvivaara, meanwhile, is seeking more funding to keep its mine open. Technically market is under fresh selling as market has witnessed gain in open interest by 14.58% to settled at 6403 while prices down -7.6 rupee, now Nickel is getting support at 835.9 and below same could see a test of 829.8 level, And resistance is now likely to be seen at 852.8, a move above could see prices testing 863.6.
Trading Ideas:
Nickel trading range for the day is 829.8-863.6.
Nickel ended lower in the wake of US initial jobless claims, which rose to 374,000 higher than expected
Republicans offered a six-week increase in federal debt ceiling in exchange for negotiations with President Obama, pushing off threat of default until November
Markets will possibly be relieved by the six-week increase in the federal debt ceiling overnight.