Aksh Optifibre
Submitted by Ashok Rawat on Sat, 11/12/2016 - 17:42
New Delhi [India], Nov.12 : Aksh Optifibre Limited, the leading Indian manufacturer of Optical Fibre, Optical Fibre Cables, Fibre Reinforced Composites and a major e-Governance service provider announced its Q2 FY17 results.
Revenue recorded at Rs. 90.41 Crore, EBIDTA at Rs. 10.68 Crore.
Export Sales for the quarter at Rs. 50.96 Crore.
The company would like to thank all its shareholders for reposing faith in AKSH values and business competencies which has led to 25% increase in shareholder base.
The upgradation and expansion plans announced by the company earlier this year is on track. Upgradation in Optical Fibre (OF) and Optical Fibre Cables (OFC) has been completed while expansion in OF and Fibre Reinforced Plastic (FRP) is progressing for timely completion by March 2017.
Submitted by Darpana Kutty on Thu, 10/01/2009 - 07:42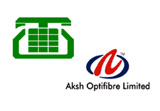 Aksh Optifibre, an Indian provider of optical fibre solutions, has finally secured the nod from its board for raising funds up to $20 million through preferential basis.
The company stated in a communiqué that, board has approved the proposal to raise funds up to $20 million through preferential issue. The funds would be used for the company's services division comprising of IPTV and VoIP businesses.