Country's Brand Identity Not Because Of Hindi Film Industry Alone, Says Ambika Soni
Submitted by Ashok Rao on Sat, 07/03/2010 - 17:05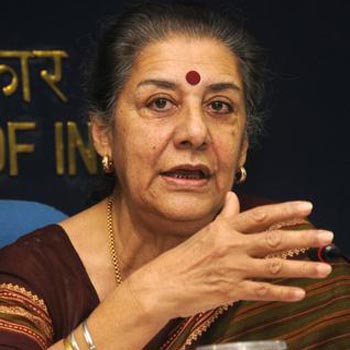 Union Information and Broadcasting Minister Ambika Soni has emphasized that India's image as an entertainer was not because of Bollywood only.
While launching the three-day Retrospective of Kamal Haasan's flick in the national capital, the minister observed that regional cinema had an identical role to play.
She said that the country's brand identity as a nation of entertaining cinema is not owing to the Hindi film industry only.
She added that it is the creative genius of cinema in all languages that has contributed greatly to the multi-cultural identity of the Indian film movement.
''The cine artistes have also contributed in positioning India's imprint as a nation with rich cinematic history world-wide by being Goodwill Ambassadors for the country,'' she also said.
The Retrospective is being organized from July 2-4 by the Directorate of Film Festivals to accolade Kamal Haasan for the completion of five decades in the entertainment industry. (With Inputs from Agencies)