Cracks In Preity-Ness Relation?
Submitted by Ashok Rao on Mon, 06/23/2008 - 13:14
The 'inevitable' has happened. There are cracks in the hunky-dory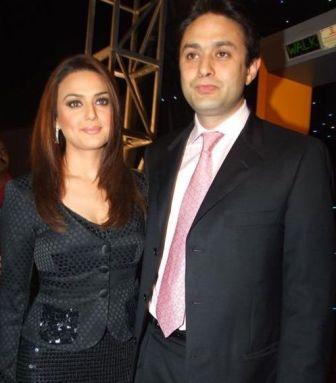 relationship between Preity Zinta and Ness Wadia, the suave industrialist son of Maureen and Nusli Wadia.
If rumors bobbing up out of the Bollywood insiders are to be trusted, Preity and Ness are constantly having problems.
And all the confusion happened because of IPL and Preity's apparent liking for Team Mohali's casanova captain Yuvraj Singh or 'Yuvi'.
Moreover, Ness's investment in the IPL also reportedly suffered a beating and what the Wadia scion's views on this must be is anybody's guess.
That there are regular tiffs between the Preity and Ness is known. But as for the recent disputation, Preity who is back to work and dubbing for Jahnu Barua's upcoming movie 'Har Pal' plus making preparations for the Bachchans's world tour, said heatedly, "What rumours are you talking about? Which couple doesn't have its ups and downs? Ness and I are no exception. You don't go ahead and break-up just because you fight."
Marriage is not even a talking point in her life at this time.
"Even my family is not concerned about my marriage. It's not happening in the near future," retorted the actress shortly.
As for Yuvi, the industry gossip hints a flirty relationship between the stylish cricketer and cute actress did spark briefly during the IPL but has died back currently. Neither will talk about it, of course.