Czech Republic, Serbia tied 1-1 in Davis Cup final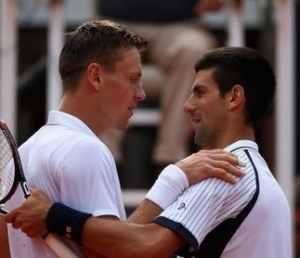 Johannesburg, Nov 16 (ANI): As Novak Djokovic and Tomas Berdych won their matches in straight sets, Serbia and defending champions, the Czech Republic were tied 1-1 after the first day of the Davis Cup final on Friday.
According to Sport24, Djokovic, the world number two and recently-crowned ATP World Tour Finals champion, first beat 44th-ranked veteran Radek Stepanek, 7-5, 6-1, 6-4, in two hours and 10 minutes.
Seventh-ranked Berdych then put the Czechs level with a three-set win over 117th-ranked Dusan Lajovic 6-3, 6-4, 6-3 in an hour and 54 minutes, the report said.
In Saturday's doubles, Serbia's Ilija Bozoljac and Nenad Zimonjic are due to face the Czech Republic's Jan Hajek and Lukas Rosol, the report added. (ANI)