Dhoni Visits His New Home Construction Site
Submitted by Bhuvan Kala on Thu, 07/16/2009 - 14:38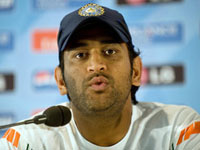 Indian skipper Mahendra Singh Dhoni has visited the construction site of his new house, which will be completed within a period of six months at Harmu in Ranchi yesterday.
Dhoni has returned back to home recently after a tiring cricket schedule of more than three months, and he took a look at the design of house and also monitored the progress of the construction work of his new house.
Dhoni was cheered by hundreds of fans accompanied by his elder brother Narendra Singh Dhoni, who said that almost 70 percent of the construction work has been completed, and after completion of remaining work they would decide any date for house-warming.
After spending about 45 minutes at the construction site, Narinder said that Dhoni has a look at every room of his new house for which land was allotted by the state government three years ago, and Dhoni was satisfied with the progress in the construction work.