Dhoni warns players against overconfidence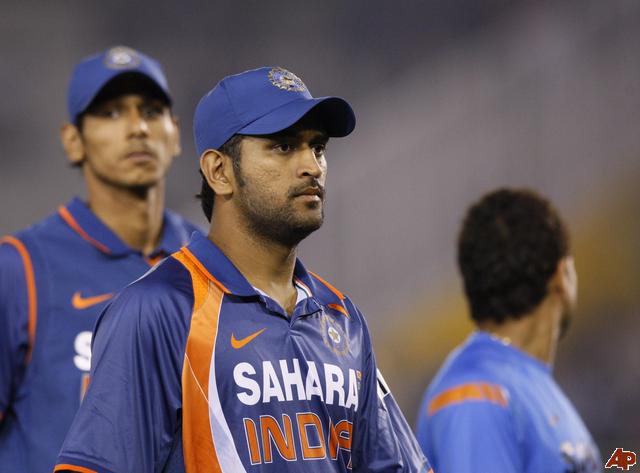 Rajkot, Dec 14 : Indian captain Mahendra Singh Dhoni said the team cannot afford to be overconfident as they take on Sri Lanka in the first of the five One-day internationals here Tuesday.
India lost their last home ODI series against Australia 4-2 and would be looking to end the year on a high with a series victory.
They will take confidence from their Test series victory against Sri Lanka and 1-1 outcome in the Twenty20s.
Dhoni, however, want his players to remain focussed on the job.
"We want to win the series but at the same time we should not be overconfident," he said.
"We have to be in that phase of mind where you are confident. We are taking care of the things we need to do, including fielding and death bowling. We have quite a few areas we need to improve and also play to our strong points throughout the series."
India did not achieve great success in ODIs this year and would be keen to get back to the groove. The team's fielding has been an area of concern in the Twenty20 matches. Dhoni hoped that new fielding consultant Australian Mike Young would make a differnece.
"Since Mike has joined us, we are laying emphasis on fielding. He also needs a few specific sessions as coach," said Dhoni.
"We need to get our basics right and fielding is an area where we need to improve," he said.
India will be happy to have Zaheer Khan and Harbhajan Singh, who were rested from the Twenty20s, back in the team.
"They are our most experienced bowlers. It is important to get early breakthroughs with the new ball, but at the same time put pressure during the middle overs and attack with your best spinner and look to get wickets."
"We have seen wickets are so good to bat on and the only way to stop opposition from getting runs is to take wickets."
Dhoni also said that they need to bowl better in the death overs.
"Variation is important and at the same time you have to bowl good yorkers. That is the key. A good death bowler should have yorkers. We are improving and done well in patches. We need to be consistent with the ball in the last eight or ten overs."
Yuvraj Singh is likely to miss the match with a finger injury.
Yuvraj fractured a finger of his left hand while fielding in the second Twenty20 international in Mohali Saturday night.(IANS)