Dhumal blames Himachal government for assembly stalemate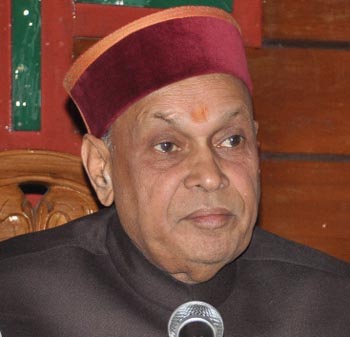 Shimla, Feb 20 : BJP leader and former Himachal Pradesh chief minister Prem Kumar Dhumal Thursday blamed the state government for continued deadlock in the assembly for the ninth consecutive sitting.
"We have boycotted the house as the chief minister has made humiliating remarks against our legislators," Dhumal told reporters here.
And he said there was no effort from the government to end the stalemate.
The opposition Bharatiya Janata Party Thursday staged a protest within the Vidhan Sabha premises when the session was on.
"If we will participate, it will dilute our stand," Dhumal added.
Legislator Suresh Bhardwaj told IANS that state Parliamentary Affairs Minister Mukesh Agnihotri has not made any effort to end the deadlock in a respectable manner.
"Just to fulfil an obligation, Agnihotri is only making telephonic calls and inviting us to return to the house. This is not the way to end the stalemate gracefully," he added.
The BJP legislators have been boycotting the house since Feb 7, the day the state's budget was presented, over Virbhadra Singh's "humiliating" remark.
BJP state president Satpal Satti said Virbhadra Singh had remarked that BJP legislators "are bonded labourers".
Official sources said his comment was indirectly aimed at Dhumal.
Earlier, the opposition was disrupting the house since the session began Feb 3. It will adjourn sine die Friday.
Virbhadra Singh said the government has put in efforts so the BJP members could attend the session.
"They are not coming. What can we do? I can only make a request to them through media. If they think I would go crawling on my knees to get them in the house, it is not possible," he told reporters Tuesday. (IANS)