Diet, exercise, weight maintenance are key to cut cancer risk
Submitted by Mohit Joshi on Tue, 05/12/2009 - 21:02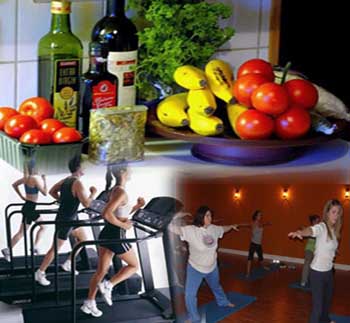 London, May 12: A healthy diet, regular physical activity, and maintaining a healthy weight are the three best ways to ensure a reduced risk of cancer, according to recommendations by the World Cancer Research Fund.
Looking at the evidence on the links between diet and physical activity and cancer, an independent international panel of experts and researchers took five years to sift through 500,000 studies, and to analyse the 7,000 most relevant, to come up with 10 recommendations to best reduce a person''s risk of cancer.
And their main finding was that eating a healthy diet, being regularly physically active, and maintaining a healthy weight were the three best strategies.
The panel suggests that a healthy diet is based around fibre-rich plant foods with only modest amounts of alcohol, salt and red meat, and little if any processed meat, reports the Scotsman.
While the evidence suggests that fruits and veggies probably reduce risk of cancer, one needs to eat a wide variety to get as many different nutrients as possible.
The panel recommends that one should not take dietary supplements.
According to estimates, just eating healthily, exercising and maintaining a healthy body weight could prevent almost one-third of the most common cancers, and if followed these recommendations could also help reduce risk of other diseases, such as heart disease and diabetes.
The panel has also recommended avoiding sugary drinks and limiting consumption of foods that are energy dense, i. e., they have a lot of calories for their weight.
Limiting calories is important for cancer prevention because one of the report''s main messages is the evidence that being overweight increases risk of cancer is stronger now than ever before.
Thus, it is recommended that people should aim to be as lean as possible without becoming underweight.
And another way to maintain a healthy weight is to make sure that one is physically active, because it helps keeping you trim, and can also reduce your risk of cancer in its own right.
In their recommendations, experts have asked people to be active at a moderate level or more for at least half an hour a day.
However, being active doesn''t necessarily mean working out in the gym, but can even include things like brisk walking, cycling and even housework.
Also, the entire workout for the day should not be done in one go, which means that if you are walking ten minutes to the shops, that counts towards your total.
Incorporating activity into your existing daily routine is in fact the best way of sticking to it in the long term. (ANI)