Digicable enters strategic outsourcing contract with IBM for 10 years
Submitted by Sukant Sharma on Wed, 12/23/2009 - 03:53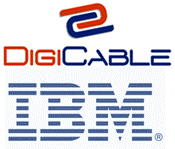 Digicable, a leading cable and broadband distribution player in India, has signed a 10-year strategic outsourcing agreement with IBM. Under this agreement, IBM will be responsible to support the integration of Digicable's digital media content delivery and value added services applications with its core business technologies and processes.
This deal, carrying an initial outlay of US $83 billion, is thought to be one of the most significant deals signed by a Media and Entertainment company in India. Through the Integrated approach that IBM will provide, the solution will enable Digicable in providing its subscribers with personalized service.
IBM has got deep business insight and technological know-how, which will help Digicable in solving complex business problems and transforming their business into a more intelligent enterprise.
By facilitating the launching of the Value Added Services like Video-On-Demand, Push-VOD, Interactive TV, Internet Service on TV, IBM will help Digicable in increasing the revenue per subscriber. Moreover Digicable subscribers will be able to access more channels with better picture quality and sound.
To be more specific, IBM will provide IT infrastructure services, network support, application maintenance services and security services. In addition to that, IBM will implement and manage the core applications and services which include B2B/B2C and employee Portals, voucher and credit management systems, Electronic Bill Presentation & Payment, Intellectual Property Management and ERP.
The British investment firm, Ashmore holds a 49 percent stake in Digicable and has more than 8 million subscribers across the 70 cities in India. With the help of the media and entertainment industry, IBM earns annual revenue of $2 billion, globally.
On being asked, Mr. Jagjit Singh Kohli, the Managing Director of Digicable said that as there have been continuous changes in the business scenario and the demands of the customers are increasing, the company will have to find new ways to evolve new exciting services, in order to retain the customers.