Dish TV books loss in Q2 period; stock slips 6%
Submitted by Malini Ranade on Wed, 10/28/2009 - 06:43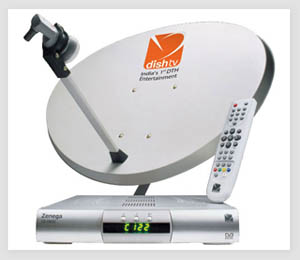 Dish TV, India's first direct to home (DTH) service provider has registered a net loss of Rs 56.13 crore for the second quarter ended September, compared with net loss of Rs 154.11 crore of the year ago period.
Further, the total income of the company stood at Rs 257.49 crore at the end of September quarter of the current financial year, whereas the same was at Rs 173.29 crore during last year.
For the half-year ended September 30, 2009, Dish TV posted a net loss of Rs 125.34 crore, against net loss of Rs 279.55 crore during the corresponding period last fiscal.
Dish TV is India's number one direct-to-home provider and a member of the largest media conglomerate in India - Zee group. The company's subscribers have access to 240 channels & services. The company has strong market share with registered 6 million subscribers and growing.
At present, Dish TV has approximately 700 distributors and 48,000 dealers spanning 6600 towns across the country.
Ahead of poor results, the shares of company today settled at Rs 39 on BSE, down 6 per cent compared to its previous close.