Don't write Congress off, says Antony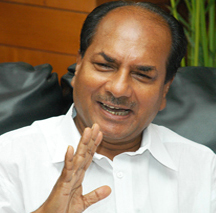 Thiruvananthapuram, March 29 : Defence Minister A. K. Antony Saturday contended that the electoral prospects for the Congress-led UPA have brightened and a third stint in power is a possibility for the combine.
"Please don't write us off.... people's line of thought is there for us and there's every possibility for a third UPA government as the graph of the Congress now has risen.
"Moreover there are internal problems in the BJP and Indians want a united India because voting for (BJP prime ministerial candidate Narendra) Modi means the country would disintegrate," said Antony while interacting with reporters here.
"People know what we have done and we are a combination that has honoured our words. Right to Information, food security bill, one rank one pension are all our promises that we have kept . If we are given a chance again, we will come out with Right to Pension and we assure that we will form a National Commission for Ex-Servicemen," he said.
Attacking Modi, Antony said that one has to go to the villages in Gujarat to understand how far ahead villages in Kerala are.
"There is nothing like what is called as a 'Modi wave'. It's just marketing and let me tell you that this is one election where the RSS and the Sangh Parivar are in the forefront and the BJP's agenda is against Indian unity," he said, adding if such a government comes to power "it iss going to be absolute chaos and is detrimental to our country".
Taking pot shots at the Communist Party of India-Marxist (CPI-M), Antony said it has come to a stage that not a single party of what they are terming as part of the third alternative is willing to give them a single seat to contest.
"In the best interest, they should see how they can cooperate to keep out the BJP," he said, urging the CPI-M to keep out from "murder politics".
"The biggest problem for the CPI-M is that they live behind times and on a redundant ideology. I always feel that the Left has a role, but with old theories, they just don't have a chance to stay afloat," he added.
Antony expressed confidence that in Kerala, the Congress-led United Democratic Front (UDF) will better their performance when compared to the 2009 polls, when they won 16 out of the state's 20 Lok Sabha seats.
Always has been the star campaigner of the Congress, he will from Sunday start a state-wide tour.
Antony also ruled out his return to state politics.
"There is a time for everything and as far as I am concerned, I am finished with state politics. I will have no role in day-to-day political activities in the state nor am I interested in running a government here," said the three-time former chief minister. (IANS)