ECB expected to leave interest rates on hold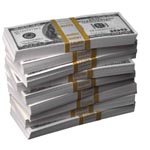 Luxembourg  - The European Central Bank meets Thursday with the ECB expected to leave interest rates on hold as it sizes up the economic fallout from the global recession.
Analysts are expecting the ECB to leave rates in the 16-member eurozone unchanged at a record low of one per cent this week with many economic forecasters believing that borrowing costs in the currency bloc will remain on hold well into 2010.
This is despite the release of data ahead of the meeting showing eurozone inflation tumbling to below zero for the first time since the currency bloc was forged a decade ago, as a result stoking fears about the threat of deflation.
Consumer prices slipped by 0.1 per cent in June compared to the same month in 2008, the European Union's statistics office, Eurostat said Wednesday.
This took inflation well below the ECB's annual target of close to but below two per cent.
As a result, the market focus is likely to be on ECB chief Jean- Claude Trichet's press conference following the bank's governing council meeting for indications as to whether it believes a more positive economic picture is starting to emerge.
Trichet might also provide more details at his press conference of the ECB's plans to help spur economic growth by buying up to 60 billion euros (84 billion dollars) of covered bonds, which he outlined a month ago.
But analysts believe Trichet is likely to insist that it is too early to say what impact the ECB's move last week to inject a massive 442 billion euros of liquidity into the banking system has had on shoring up financial market confidence.
To be held in Luxembourg, Thursday's meeting is one of the Frankfurt-based ECB's regular out-of-town sessions. (dpa)