Economic Offences Wing to take stock cheats to Mumbai
Submitted by Ashok Rao on Sat, 11/17/2012 - 21:29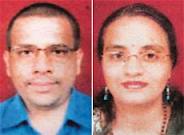 A Economic Offences Wing team has lef for the financial capital, Mumbai with the Ulhas Prabhakar Khaire and Raksha J Urs, the couple behind the Stock Guru scam that shocked the nation.
The couple will also be taken to Goa and Ratnagiri. The couple, who come from Ratnagiri district, attracted innocent investors and savers with unbelievable investment schemes and held lavish conferences at luxury hotels. The couple is believed to have cheated 2 lakh people across the country and have collected a whooping Rs500 crore.
"We have come across a new firm, Jai Balaji Bhagwan Securities, set up by Ulhas. We are checking if any genuine company exists in this name. We want to raid this office where we may get other leads on Stock Guru India," said S D Mishra, additional DCP (EOW), crime branch.
They were arrested by the EOW of the Delhi police on Monday. The police said that the couple had multiple identities and used several names such as Lokeshwar Dev (Khaire) and Priyanka Dev (Urs). The police found that the couple was involved in several cases in Maharashtra, Uttarakhand, Himachal Pradesh, Rajasthan, Madhya Pradesh and Sikkim.
Additional Chief Metropolitan Magistrate Pulastya Pramachala has extended the police custody of Ulhas' till November 24 while his wife has been remanded in judicial custody till November 30.