Expert Analysis for Gold and Silver Futures Trading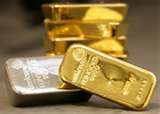 Gold: The counter is facing pressure around 15700 level, we should wait for the triangular breakout. Prices are more likely to trade between 9 and 21 DMA i. e. 15570 and 15712 respectively. The RSI and MA remain flat with no signal on the direction. If the counter trades below 15570 we can expect it to test 15500 and
15440.
Silver: The counter has been facing pressure on higher levels around 26300 and 26580. Negative stochastic and close below short term MA i. e. 9 and 21 DMA indicates the short term weakness in the counter. We expect the counter to test 25500 if trades below 26000 mark.