Farmers set toll plaza free after operator agrees to their demands
Submitted by Ashok Rao on Fri, 12/07/2012 - 22:34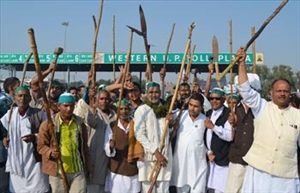 Farmers on Thursday ended their occupation of a toll plaza on the Meerut-Dehradun highway in Uttar Pradesh after the operator company agreed not to levy any toll on their vehicles.
The company officials also confirmed that the company had also agreed to slash the toll tax for locals, who use the toll plaza many times a day, by half.
Bhartiya Kisan Union (BKU) activists had shooed away the toll plaza employees and had been occupying it for the last 37 days.
Rakesh Tikait, head of the BKU, said it was a victory for the farmers, whose land had been acquired for the highway project. The union had been demanding farmers' vehicles, such as tractors, should be given free access, and charges for locals should be slashed.
Sources said that farmers had also freed other toll plazas. On Wednesday, BKU activists had captures the Gorakhpur toll plaza; and on Saturday, they had captured Braj Ghat toll plaza near Ghaziabad.
In addition, they had occupied the Dasna toll plaza, Sivayan toll plaza and Shahjahanpur toll plaza.
Meanwhile, an industrialist has criticized the government's incapability in tackling such incidents. Speaking on the condition of anonymity, the industrialist said that on the one hand the government wanted investments in the state and on the other it was not acting against irrational demands of unruly people.