From farms of MP to cancer lab — a scholar's journey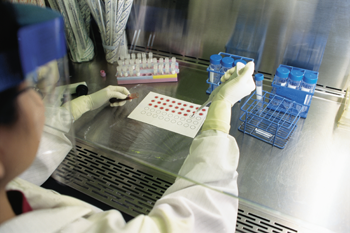 Anita Tilwari (32) is in Malaysia, researching on medicinal plants for curing cancer.
Having overcome two handicaps — of being a Dalit and a woman — she won a government of India fellowship for research at the Institute for Research in Molecular Medicine, University Sains Malaysia, Kelantan, north Malaysia.
She also heads a Malaysian delegation to promote awareness about science.
Anita grew up watching her parents till the field and do menial jobs in Alampur, Harda district in Madhya Pradesh. (Her parents still work as labourers in Bhopal.)
Anita's elder sister did not go to school and the younger one gave up studies after class VII. Both were pushed into early marriage. Anita, however, is unmarried.
She did her graduation and post-graduation in biotechnology and microbiology at Barkatullah University, Bhopal, and later got a doctorate in the same field from the Rajiv Gandhi Proudyogiki Vishwavidyalaya (University of Technology of Madhya Pradesh, Bhopal).
She got the Young Scientist Award in 2005 (from the state government) for innovation in the field of science.
"She was good in studies and one of her teachers in the village spotted her potential and sent her to a Navodaya Vidyalaya. This was the turning point in her life," said her mother, Shanta Bai (55).
Anita has been able to shape the careers of her two younger brothers. One of them, Tulsi, teaches physics, chemistry and mathematics in a government school in Sagar (north-central Madhya Pradesh) while the other, Valmiki, is in the final year of electronics and communication engineering at Rewa Engineering College (north-eastern Madhya Pradesh).
Valmiki said: "I aim to become an IAS officer. And I will work hard for it.
But all this would not have been possible without the untiring efforts of my elder sister."