Foreign ministers of Jordan, Paraguay discuss Mideast peace process
Submitted by Sahil Nagpal on Sun, 12/07/2008 - 02:39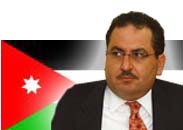 Amman  - Jordanian Foreign Minister Salah Bashir conferred Saturday with his visiting Paraguayan counterpart Alejandro Hamed Franco on latest developments in the Middle East and means of boosting bilateral ties.
"Bashir expressed Jordan's keenness on building ties of cooperation with Paraguay either on bilateral basis or within the regional framework of the Mercosur states in various spheres, particularly in the economic field," a foreign ministry statement said.
The Mercosur economic bloc, the largest in Latin America, comprises Paraguay, Uruguay, Brazil and Argentina.
Bashir said that there were ample chances for promoting ties with Paraguay in the spheres of trade, investments, tourism, culture and academic education.
"The two sides stressed the importance of exploiting the forthcoming Latin-Arab summit in Doha to discuss all issues that spur cooperation between Arab and Latin American countries," the statement said.
Franco showed interest in Jordan's free trade zones, particularly in the Special Economic Zone of Aqaba as well as the establishment of cooperation between the Jordan Diplomatic Institute and the Diplomatic Academy in Paraguay, it added. (dpa)