Former Haryana DGP gets jail for molesting minor
Submitted by Hardeep Sidhu on Mon, 12/21/2009 - 20:19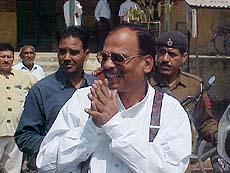 Chandigarh, Dec 21 : Former Haryana director general of police (DGP) S. P. S. Rathore was Monday sentenced to six months in prison in a 1990 case of molesting 14-year-old budding tennis player Ruchika Girotra who committed suicide three years later.
Rathore was allowed bail by the Central Bureau of Investigation (CBI) court special judge J. S. Sidhu immediately after his sentencing.
The former DGP can now appeal before a higher court against the CBI court order.
"The sentence is very less even though we are happy that he (Rathore) has been found guilty and sentenced by the court," said retired Haryana government official Anand Prakash, whose daughter was the lone eyewitness to the August 1990 molestation of the teen in Haryana's Panchkula town, 10 km from here.
Girotra committed suicide three years after the incident in 1993.(IANS)
Technology Sector