French Navy's training at Kochi Port
Submitted by Mohit Joshi on Sat, 01/24/2009 - 18:41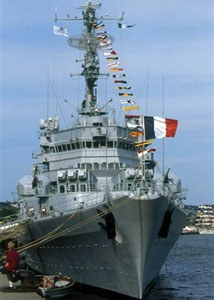 Kochi, Jan 24: The French Navy's helicopter carrier Jeanne d'Arc, with about 250 cadets and midshipmen on board, will call at Kochi port on January 28 on a six-day visit.
A training squadron for naval officers, the training ship will be accompanied by another ship of the French Navy.
The commanding officer Captain Herve Blejean of Jeanne d'Arc and Commander Thierry Catard is the Commanding Officer of ASW Georges Leygues.
According to sources, the purpose of the visit is to facilitate interaction between cadets of French and Indian Navies.
The 12,000-tonne class ship with a cruising speed of 28 knots will be decommissioned next year.
Built as La Résolue and renamed in 1964 after Joan of Arc, the ship is mainly used for training.
The helicopter carrier with 40 officers, 150 cadets, 460 crewmen has the weaponary power of two 100 mm automatic simple gun turrets and six missile launchers.
The ship was involved in the French Navy''s anti piracy operation in the Gulf of Aden last year.
Both the ships will be leaving from Kochi Port on February 2. (ANI)