Gang that plundered royal palace for 8 months busted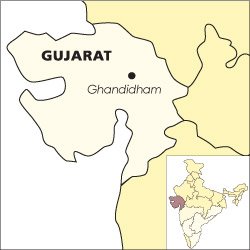 Gandhinagar, Jan 11 : For eight months a five-member gang of thieves systematically pilfered semi-precious stones, large quantities of silverware and precious heirloom from one of the locked palaces of the Jamnagar royal family in Gujarat before it was nabbed, police said Monday.
According to Rajkot Deputy Inspector General of Police (Saurashtra range) Manoj Shashidhar, initially two men were picked up from a village Saturday night near Limbdi in Surendranagar district by sleuths of the Rapid Response Cell (RRC) and the local police.
The interrogation of the two led to the arrest of three others Sunday and provided clues to the high-profile case.
It was initially believed that a bat used by cricket legend and Jamnagar royal Ranjitsinhji had been stolen. However, this information was denied by the erstwhile royal household who said that the bat was safe.
Interrogation of the suspects revealed that they first broke into the closed palace located in the desolate confines of a nature park over eight months ago. Ever since they had been making forays into the palace every other new moon night to take out some precious items.
Shashidhar said the stolen goods included precious and semi-precious stones suspected to be diamonds and rubies, one of which alone is believed to be worth about Rs. 50 lakh. However, a proper evaluation is in progress and the exact amount of both the loss and the seizures would be known only after that.
"Large quantities of heavy silver ornaments used to decorate horses and elephants were stolen from the palace. These are being quantified... The antique value of the articles has to be considered," he added. (IANS)