Ganga poses risk of cancer, study
Submitted by Piyush Diwan on Thu, 10/18/2012 - 21:10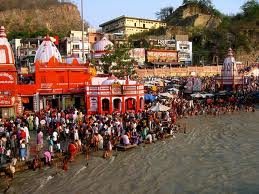 According to a new study, the Ganga River, which s considered holy by many in the country, is now a poisonous river and people living along its costs in several states are at a high risk of cancer than any other place in the country.
The study, which was National Cancer Registry Programme (NCRP) under the Indian Council of Medical Research, said that that people living on Ganga coats in Uttar Pradesh, Bihar and Bengal are facing a high risk of the disease. Researchers found that river contains heavy metals and lethal chemicals that cause disease.
"We know that the incidence of cancer was highest in the country in areas drained by the Ganga. We also know why. Now, we are going deeper into the problem. Hopefully, we'll be able to present a report to the Union health ministry in a month or two," NCRP head A Nandkumar said.
The study said that area in east Uttar Pradesh, the flood plains of Bengal and Bihar are the worst affected areas along the river. Researchers found that the Cancer of the gallbladder, kidneys, food pipe, prostate, liver, kidneys, urinary bladder and skin were commonly affecting people in these areas. These cases were the higher than anywhere else in the country, it found.
Experts say that the relentless discharge of pollutants is the cause of these diseases and steps are needed to clean the river.