Genpact Looking At US listing
Submitted by Malini Ranade on Sun, 04/08/2007 - 23:54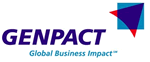 India's largest BPO firm, Genpact, is speculating a US listing through an IPO to raise over $600 million for the company and its promoters. Genpact, formerly known as Gecis, was previously a part of US-based global industrial multinational General Electric (GE).
"Genpact, a Gurgaon-based BPO, is planning to offload about 15% equity through a public float on either NASDAQ or New York Stock Exchange later this year," told merchant banking sources close to the development.
GE and private equity giants Oakhill Capital and General Atlantic, major shareholders of company, are expected to put up part of their holding through this IPO for sale, which could value the company at around four billion dollars.
As per sources, Genpact appointed Morgan Stanley, JPMorgan and Citigroup for the IPO and, by next few weeks, it may file the regulatory prospectus followed with a listing later this year.
"Genpact's US listing could be followed by a number of other BPO firms seeking to list their shares on the US or UK bourses in their bid to tap the growing investor interest in the fast-growing outsourcing segment," said bankers.
London-based BPO, Xchanging, is also looking to raise $300 million through an IPO at London Stock Exchange, while New York-based Sutherland Global Services is also expecting a US listing for about $250 million in next few months.
Bankers said, "Sutherland's IPO could value the firm at around $2 billion and the company is currently in the process of finalizing its investment bankers." Its main investors are its founder, chairman and CEO, Dilip Vellodi, PE firm Oak Investment Partners and Standard Chartered Private Equity.
During the year 2006, two Indian BPOs successfully completed their IPOs in the US i.e. WNS on the NYSE and EXLService on NASDAQ.
In 1997, Genpact started it operation in India and was among the leading outsourcing business in the country. But in 2004, GE sold approx. 60% share in the company to Oakhill and General Atlantic for about $500 million.
Now, Genpact is aiming $1 billion revenue mark by 2008, from its existing annual revenue of about $600 million.
Though, there are number of secondary equity offering from companies which are already listed on domestic bourses, such as Infosys, Wipro, Satyam, ICICI Bank and HDFC Bank, but there have not been many IPOs by Indian firms in the US market.
Previous to WNS and EXL, Rediff.com and Sify.com had also listed their shares on NASDAQ, while ITeS firms like Cognizant are listed in the US as well.
Technology Sector